Welcome to the Home of the National EDGETA
(Early Day Gas Engine and Tractor Association)
PLEASE NOTE: The Early Day Gas Engine & Tractor Association does not purchase or help with the individual sale of engines, tractors, antiques and other items. Please contact an EDGETA Branch near you to inquire about upcoming swap meets or sales.
The Early Day Gas Engine and Tractor Association (E.D.G.E. & T.A.) was formed in 1957 and is a national organization whose purpose is to stimulate interest in collecting, restoring, preserving, and exhibiting gasoline and oil engines, gas/diesel and steam tractors, power driven farm machinery and any other equipment of historical value. Individual membership is only available through the local branches and contacts to these branches are given under the "Branch Locations" section of this site.
The National Association is governed by seven directors elected on a rotating basis. The seven directors then choose a President, Vice President, and Secretary/Treasurer from within the Board of Directors with the exception of the Secretary/Treasurer who can be appointed from outside the board per the bylaws.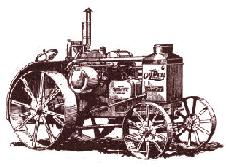 If your club is interested in becoming affiliated with EDGE&TA, please follow these procedures: Fill out the Application to Join EDGE&TA and submit to Carrie Jo Parmley, EDGE&TA Secretary. It will be forwarded on to the Board of Directors for approval. New clubs require a minimum of twenty (20) members to join the National Organization and become a Branch. Dual members may not be included in the original twenty.  If your club is approved, Carrie Jo will notify you and you can then proceed as follows: Fill out the EDGE&TA Branch Information Sheet along with a list of names and addresses of your members.  EFFECTIVE WITH 2013 DUES, MAKE A CHECK PAYABLE TO EDGE&TA FOR $12.00 PER PERSON (For Dues and Benefits) and forward to Carrie Jo Parmley. You will be assigned a branch number. Membership cards and other information will be sent to you.
It is no longer an insurance requirement to report your event to have insurance coverage.  However, the EDGETA National Board of Directors strongly encourages you to report your events, so they are added to the Branch Event Calendar.   This will publicize your show or event for other branches to see.  It also gives the National Directors and Advisors a way to keep track of branch activities.
National: Branch 107 - Flint Hills Antique Power Association
Emporia, Kansas
June 29-30, 2018 (Friday-Saturday)
National Meeting: Branch 107 - Flint Hills Antique Power Association
Emporia, Kansas
June 29-30, 2018
NW: Branch 159 - NW Old Iron Club
August 17-18-19, 2018 (Friday-Sunday) Tillamook, Oregon (1 mile North downtown) Blue Heron Cheese Co.
NE: Branch 133 - Maine Antique Tractor Club
Annual Tractor Festival
June 23-24, 2018 (Saturday-Sunday) 351 Waterville Rd., Norridgewock, Maine
SW: Branch 13 - McFarland Living History Ranch
October 5-6-7, 2018 (Friday-Sunday)
8899 Orr Road, Galt, Ca. 95632
SC: Branch 37 - Tired Iron of the Ozarks
SE: Branch 119 – Stumptown Tractor Club
October 20-21, 2018 (Saturday-Sunday)
Hodges Farm, Charlotte, North Carolina